German Zoo Splits Up Gay Vultures
November 15, 2010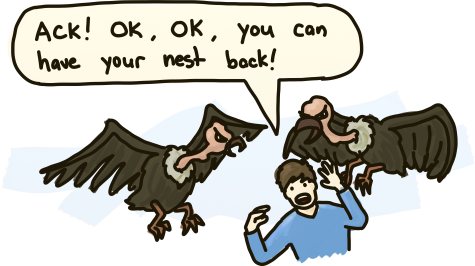 Let's start the week off with a story about zoo animals. Cuddly ones. Like vultures!
The Allwetter Zoo in Muenster, Germany found itself caring for a pair of gay vultures this year. The two male scavengers, both 14 years old, spent the last several months building a nest together. As adorable as that sounds, the zoo, which is in need of some new baby vultures, isn't too keen about the whole deal.
Dirk Wewers, the zoo curator, says the pair will be split up and one of them will be mated with a female from a Czech zoo.
Explaining the decision further, a zoo spokeswoman said she wasn't even happy with the gay couple's vulture nest. "The other vultures kept stealing the material they used for the nest," she said.
Well, I'm not an expert on vulture culture, but it sounds to me like the gay vultures were building such a fabulous nest that the straight ones had to steal all their materials! Poor guys.
Oh well, although they'll be apart, here's hoping the two have a fantastic life full of circling carcases and feasting on disgusting, rotting carrion!