Jesus Sends Letters To Ottawa Gay Business
November 17, 2010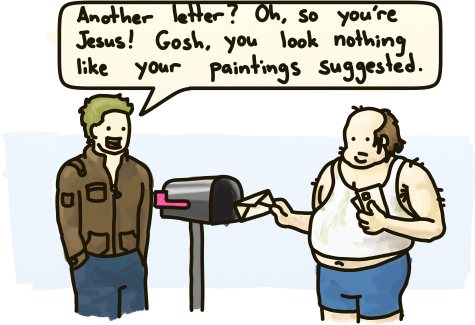 Monumental news! Jesus Christ—a tremendously influential historical figure, human incarnation of the Christian deity, and inspiration for the yearly increments of both the Julian and Gregorian Calendar—has communicated from beyond the earthly realm! For the first time since his bodily ascension into the sky nearly 2000 years ago, Jesus has spoken with humans in a way that leaves actual, physical proof.
His topic: Homosexuality.
It's an interesting choice. Having refrained from mentioning anything about it, even once, during his time in the New Testament, Jesus has decided to finally clarify his position on gays via a letter sent to the owner of the After Stonewall bookshop in Ottawa, Ontario. "Those who continue to sin in homosexuality and their sympathizers," Jesus writes, "will be going to the Pit for Eternity."
"I cannot make this any plainer," he continues, "homosexuality is a sin."
Well, it's a bit of a shift in character for a guy who was always speaking out against judgement, instead teaching love and acceptance. The owner of the bookshop has even expressed doubt that the letter was even written by Jesus in the first place. Nonetheless, we should alert the pope just in case. I'll send a text. Anyone have his number?