Charles McVety Throws Fits Over Gender Rights Bill
November 19, 2010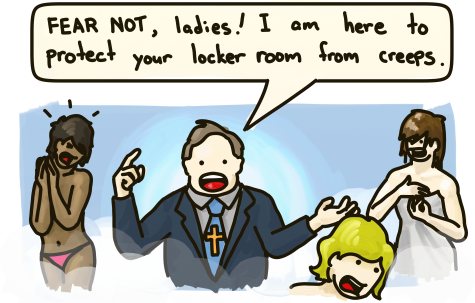 Charles McVety, the president of Canada Family Action Coalition, Canada's largest anti-gay lobby group, has ramped up his opposition to Bill C-389. The bill, if passed, will prohibit discrimination on the basis of gender identity, giving transgendered men and women equal rights in housing, employment, and public services.
This, of course, has thrown McVety into utter fits, conjuring some pretty bizarre ideas. "As adults," he told the media, "we can handle these things, but my daughter turned 13 on Saturday, and I don't want some guy showering beside her at the local swimming pool."
McVety continued, saying that the bill would allow people like convicted killer Russell Willams, who was photographed wearing women's lingerie, to enter gender-restricted spaces.
Well, I hate to alarm McVety, but convicted killers can already enter locker rooms in public pools. Karla Homolka could be in his daughter's locker room right now. Heck, there could be murderers in the men's locker room too. Who knows who's waiting to jump out from behind the shower curtains? No one is safe from the these maniac killers—no one! What was that sound?! AAAAAH!
Bill Siksay, the Bill's sponsor, put it eloquently: "I think this is Mr. McVety being his alarmist best, once again, when it comes to an issue of human rights, equal rights, for minorities in Canada." Clarifying the obvious, Siksay continued: "There is nothing in this bill that will change our understanding of appropriate behaviour in public washrooms or in gendered spaces."
Indeed, transgendered people can largely already use the gendered spaces with which they identify, and it hasn't even entered my mind that they'd somehow be any more likely to be voyeurs or act inappropriately than anyone else. Bill C-389 is simply about ending discrimination, particularly with regards to employment and other standard rights. And as it enters its third and final reading, things are looking promising, regardless of whatever paranoia McVety is content on spreading.