Catholic School Board Bans Gay-Straight Alliances
January 10, 2011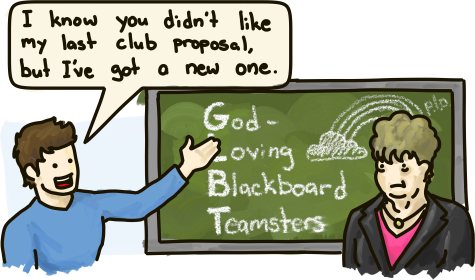 Gay-Straight Alliances—student-run support groups—are recommended by the Ontario Ministry of Education and the American Psychological Association to provide visible support to gay youth, encourage safer schools, and help curb recent gay teen suicides. The Halton Catholic School District School Board isn't too fond of them, however. They've forbidden the formation of GSAs in their schools.
Alice Anne LeMay, chair of the Catholic school board, explained the ban bluntly: "We don't have Nazi groups either," she told the press. "If a gay student requests a gay-straight alliance they would be denied."
Wow, eh?
I wonder, what must it be like to play word associations with Ms. LeMay?
Me: Gay.
LeMay: Hitler!
Me: Rainbow.
LeMay: Holocaust!
Me: Same-sex mar—
LeMay: (bursts into song) It's Springtiiiime for Hiiitler and Geeermany!
All this aside… To the students in the Halton Catholic School District, I'm sorry to hear about your exceptionally stupid administration, but things will improve. Keep up the good fight; you're not alone.