U.S. Finally Allows Hospital Visitation Rights For Gays
January 21, 2011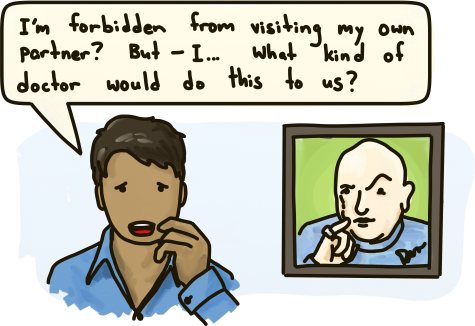 The United States effected new regulations on Tuesday that finally allow gay people to have the hospital visitation rights as straight partners.
Until Tuesday, hospitals participating in the Medicare and Medicade federal programs were free to deny hospital visitation rights to gay couples because they weren't considered family members. With the new regulations, patients are allowed to designate whomever they choose as visitors. This means that people like Janice Langbehn, who was forbidden from sitting beside her partner of 17 years as she was dying of a brain aneurysm, will no longer be separated from their loved ones when they're needed the most.
Well, this was unquestionably the right thing to do. How embarrassing that it wasn't done sooner.
Anti-gay lobbyists, in the meantime, are reportedly employing teams of the world's top creative writers in an attempt to reveal this change as _ COMMUNISM! _