Zoo Welcomes Gay Monkeys
February 21, 2011

I'm super happy to welcome back today's guest author-slash-illustrator! Premee is an environmental specialist (which may or may not have anything to do with curating spider monkeys), currently living in Edmonton, Alberta.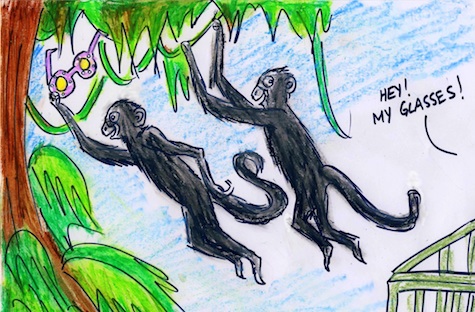 An "inseparable" and hopelessly PDA-committing same-sex spider monkey couple at Drayton Park Zoo have been named Elton and David by their keepers.
First off, isn't that too cute? And second, big shout-out to the zoo staff! Thank you for drawing attention to this adorable couple in such a positive and nonthreatening way. Thank you for giving parents the opportunity to see this couple, and talk to their kids about them. And thank you for once again reminding the anti-gay folk that same-sex couples are found in nature and that they're just gonna have to erase this-horrible-degraded-society-is-causing-the-epidemic-of-gay from their Big Book Of Homophobic Arguments.