And Now, Some Tory Electioneering Hypocrisy
April 4, 2011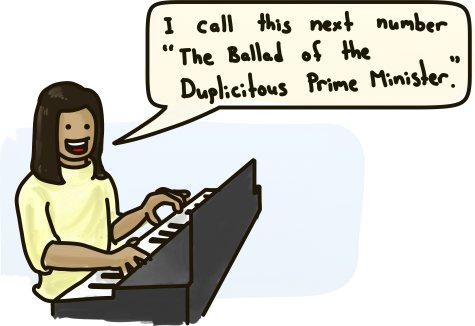 Canadian Internet sensation and all around sweetheart, Maria Aragon, was paid a visit by Stephen Harper last week to help kick start his election campaign for the Conservative party.
Surrounded by the media, the 10 year old sat beside the Prime Minister and performed Lady Gaga's "Born this way," the song that made her a viral hit online after it caught the attention of Gaga herself. Even with the added pressure of performing before reporters and cameras, Maria played magnificently. I particularly like the confidence with which she sung this verse:
No matter gay, straight or bi
lesbian, transgendered life
I'm on the right track baby
I was born to survive
Such a nice affirmation that GLBT people, despite facing discrimination simply for how they were born, have worth and value.
It reminds me of something Stephen Harper once said in the House of Commons:
Sexual orientation or, more accurately, what we are really talking about here, sexual behaviour […] was not included in the Charter of Rights when it was passed by parliament in 1982. It was not included, not because of some kind of accident or oversight, but deliberately and explicitly.
–Stephen Harper
Wait, sorry—what I meant to say was that it reminds me of the opposite of something Stephen Harper said in the House of Commons. How silly of me.
You see, from listening to what Harper has had to say about GLBT Canadians over the years, I'd say that he doesn't think gay people are "born this way" at all—and his actions are even worse than his words. In late 2006, for example, Harper attempted to revoke the rights of same-sex couples to marry equally in Canada. And in February of this year, he voted against a bill that would have protected transgendered Canadians from discrimination in employment, housing, and public services.
But, yet, here he is—sitting beside Maria and smiling at the cameras while she so wonderfully affirms the inherent worth of GLBT citizens. Yes, clearly, the adorable Maria has changed Harper's mind.
A quick tap, followed by a booming sound and some metallic, resonating clatter!
…
Uh, that was supposed to be a rim-shot. They don't come across very well in writing, do they?
(A very special hat tip to Montreal Simon for the story)