British PM Plans To Ban Gay TV Kisses
May 6, 2011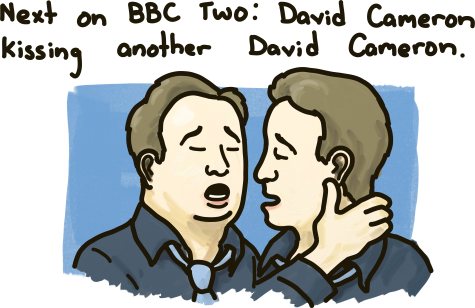 British Prime Minister David Cameron will unveil a plan to ban same-sex kisses on prime-time television, according to multiple media sources. The gay kiss ban, an amendment to existing television censorship rules, is part of a Cameron-backed inquiry into stopping children from "being exposed to indecent images."
Funny… I always thought that limiting exposure to the media was the job of parents, but I guess not. British government. Go figure!
Reg Bailey, the chief executive of the Mother's Union and person responsible for heading the inquiry, told the media that exposing children to adult themes, such as a famous gay-kiss scene that aired on Brookeside back in 1994, will "take away their innocence."
Yes, it's most unfortunate. One day these innocent children are out playing, running in loops and chasing insects in a field of posies, then they come inside to say the rosary and BAM! A gay person is kissing on the TV. Their innocence, lost forever, is replaced with soul-crushing guilt. Disillusioned with life, they tumble into an irreversible sorrow. Many die. It's terrible.
Luckily, the public is taking notice. Brooke Vincent, a young actress who plays a lesbian character on Coronation Street, chimed in on the ridiculousness: "If same-sex kisses are what [Cameron] is prioritising and concentrating on changing, our country's in trouble."
Well put, Brooke. Lets call out Cameron on this silliness, lest it give the Harper Governmentâ"¢ some ideas here in Canada!