Des Nouvelles De L'Avenir
July 20, 2011
Good day to you, gentlemen, gentleladies and other various gentlepeople. It is I, Professor Flamingo Jones of the University of Oxbridgeshire, writing to you once again. For the next week or so, Mark, the author of Slap Upside the Head, has graciously agreed to accompany me on a research expedition to France. Our primary goal is to finally uncover the true origin of the phrase "Gay Paris." So, during this excursion, he will unfortunately not be able to create the vivid illustrations that one normally comes to expect of this esteemed website. To make up for this, I have prepared something else to serve in his stead. Over the years that I have conducted research into the field of Queer Archaeology, I have learned what all other historians have learned: history repeats itself. Would that we could learn from the past, but with almost regular certainly, mistakes are repeated, and those of us who are specialists in the historical sciences can even predict what patterns society is doomed to repeat in the future.

In that vein, I will be preparing three illustrations that will predict the geopolitical current events that I expect will transpire within the next week. Although my style of illustration cannot hold a candle to Mark's, I too can draw; after all, I did study Calculus at Le Sorbonne. I am certain that my method of using the past to predict the future will undoubtedly be uncanny in its similarity to the front pages of newspapers of the day.

Just in case my predictions are wrong, however, Mark will also be posting some reader-submitted GLBT-related stories of interest below each hopefully relevant illustration. Please feel free to send Mark anything you find along!

Until we meet again,

Professor Flamingo Jones, B.Sc., M.QA., PhD.GSc.
Friday's Tidbits
Monday's Tidbits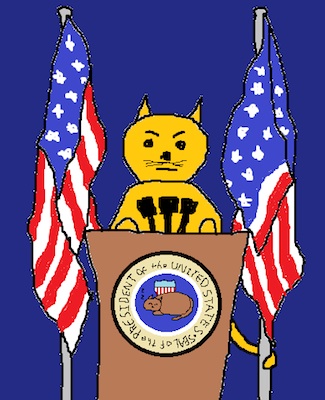 Wednesday's Tidbits