PR Campaign Uses Gays To Clean Up Tar Sands Image
August 3, 2011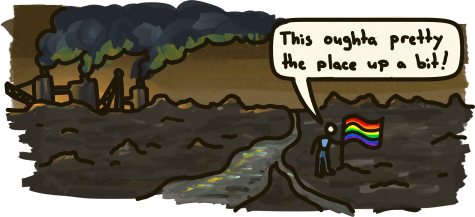 Well, here's a very special way to have your struggle for equality used by large corporations!
The Alberta tar sands, condemned internationally as one of the most environmentally harmful projects in human history, is having some understandable difficulties with its public image. Presenting the sands as an environmentally responsible project or merely downplaying its harm is an obvious non-starter, so hired PR firms are instead pointing to Canada's record of human rights compared to other oil-producing nations in an attempt to re-brand it as "ethical oil."
And cue our cameo!
Oil producers have created a video promoting Canada's tar sands, contrasting images of gay men being executed by hanging in Iran with a gay Pride parade here in Canada. The comparison shows a clear improvement in civilization and human rights, but is utterly unrelated to oil production—and certainly no excuse for the irreversable environmental damage caused by it.
Still, as a metric to mark gay acceptance in the country, I suppose this is an interesting development. We gays are now officially considered more acceptable than tar sands in the public eye.
Yay?
And while I'd rather the money used for this campaign go toward developing, say, cleaner energy sources, I guess this is as close to flattery as you can get from large, morally void corporations. So, uh, cheers to that… I guess.