Calgary Mom Launches Anti-Homophobia Campaign
August 24, 2011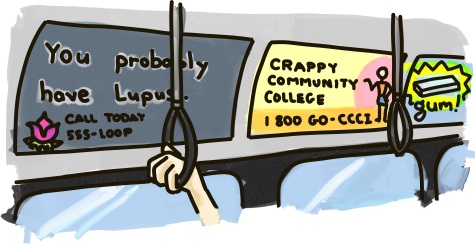 A Calgary mom has launched a new anti-homophobia campaign that will be gracing various public transit vessels in the city starting this September.
The campaign was originally conceived after the mother, who wishes to be identified only as Gail, became fed up with the harassment her teenage daughter has had to endure. Having worked on the campaign since May with help from Calgary Outlink, Gail said she thinks the message will pay off. "Calgary isn't always known to be the most accepting city," she told the media. "But there is this section of beautiful people that are coming up; we have to honour that part of our society."
Personally, I think this is a wonderful little example about how one person, no matter where you may find yourself, can help make a difference. Transit ads might not instantly rid the world of homophobia, and they might not open up closed minds on the spot, but they will add an extra dose of daily visibility. Gay youth will get a quick reminder that they aren't alone, and people whose minds are still clouded with homophobic sentiment will find themselves with another challenge.
Plus it's something nicer to look at in the mornings than mobile phone ads. And everyone can appreciate that.