Dads Win Right To Remove Surrogate From Birth Certificate
September 12, 2011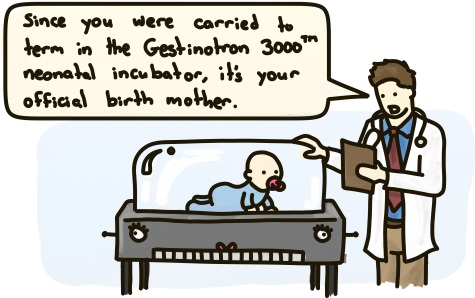 Two same-sex fathers in Saskatchewan have won the right to amend their child's birth certificate, removing the name of a surrogate mother.
The surrogate, identified only as Mary, carried the child to term using an embryo created from the sperm of one of the fathers and an ova from an anonymous donor. Despite being neither the child's biological, nor adoptive mother, she was listed as the child's mother by the hospital on the birth certificate. This was the case for two years, until a court ruled otherwise late last week.
In Canada, it's standard practice for a child's adoptive parents to be listed on their birth certificate. Listing the biological parents would be unusual, and until this case I had never actually heard of a non-adoptive, non-biological surrogate ever being listed as a parent. Still, I've already heard rumblings from enraged goofballs, calling this case political correctness run amok, a deterioration of the definition of children, etc. etc. Considering the long precedent of in vitro fertilization and listing adoptive parents as official parents on birth certificates, I find it very strange that this outrage only seems to emerge when the parents happen to be a same-sex couple.
Good thing these weirdos don't matter. Congratulations to the two dads, and their daughter. Your official documents now reflect the nature of your family perfectly, and I wish you all the best!