Farmer's Market Removes Trans Employee
October 3, 2011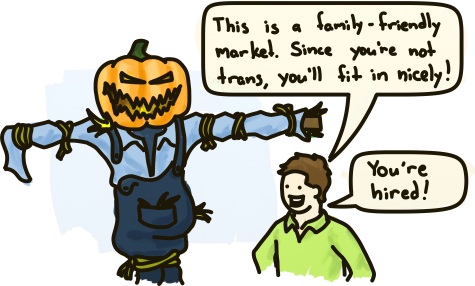 The Trails End Farmer's Market in London, Ontario is the subject of a human rights complaint after the market owner forced a vendor to remove a trans employee from their stand.
Karen Clarke, owner of the True 2 You candle company, said she was shocked to have received a call from Trails End demanding that she either fire a trans employee, or take her business to another market. "He said [the trans employee] made everyone uncomfortable," Karen told the media. "'It's just not a family place'—he kept repeating that over and over again."
Ed Kikkert, owner of the market, defended his actions to the media: "I'm not discriminating at all," he said. "I'm just asking which washroom would they use?" He continued, "How can you go into a men's washroom dressed as a lady, how can you go into the ladies washroom when you're a man; that's the difficulty I have. It's not discriminating at all."
That's a defense? Yeah, good luck with that one in front of the human rights commission.
A petition has been started to boycott the Trails End market, which already has over 4,000 signatures.