Tories Release "It Gets Better" Video
October 24, 2011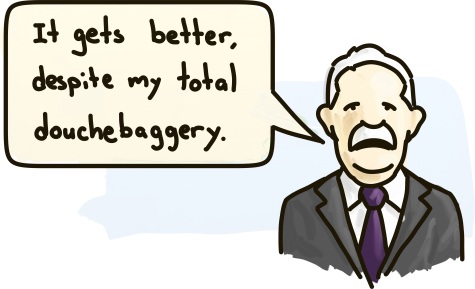 The federal Conservative party has released an "It Gets Better" video, telling GLBT teens to stick through the tough times after another bullying-related suicide made headlines last week.
Now, I believe the Tories sincerely wish to reduce teen suicides, but the fact is they've consistently acted to effect policies to make life worse for GLBT Canadians. Without any actions to back up this sudden (and rather late) sentiment, I can't take it particularly seriously.
Out of the MPs to speak in the video, all but two voted against extending existing hate crime protections to trans Canadians—and that was just in May. And out of all the video's participants that were sitting during Canada's same-sex marriage debate, only one (John Baird) voted for equal marriage rights for GLBT Canadians, with the rest all voting to restrict or even revoke such rights. Vic Toews in particular has not demonstrated any efforts to give gay Canadians equal treatment under the law, having actually introduced a motion to revoke same-sex marriage in 2006, even encouraging use of Canada's obscure Notwithstanding clause to ensure such a ban would survive if the courts ruled it to be unconstitutional. He even attempted to introduce a bill that would have allowed secular civil servants to deny public services to gay couples. And this was during his term as Canada's justice minister. The party itself adopted a policy to revoke equal marriage rights by defining marriage as opposite-sex only during its convention in June—_just four months ago_.
Politicians are in the unique position to say things will get better, and then actually help make it happen. If they want people like me to take this video seriously, they should have done it in the opposite order.