Washington May Be Next State To Get Equal Marriage Rights
January 9, 2012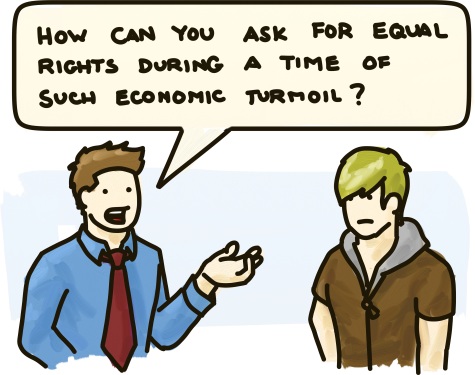 Chris Gregoire, the governor of Washington, has announced her support of full, equal marriage rights in the state.
Already opponents are mobilizing to prevent the equal recognition of same-sex relationships. State senator Dan Swecker, a Republican, implied that any such legislation would be irresponsible. "It's too bad we'd try to deal with this issue, that tends to be very divisive, in a year when we have these other major financial issues facing us," he said.
Gee, Mr. Swecker must be pretty awful at multitasking.
Also, who says this has to be some kind of tiresome debate that needs to be "dealt with" as if it's any kind of interruption to business as usual? Frankly, from the perspective of a Canadian, it seems outright silly that this still a major, divisive issue in the "land of the free." The issue has been debated to death multiple times over across the globe. The trend toward equality among developed nations is not only clear and inevitable, but also demonstrably lacking in any undesirable consequences that people like Mr. Swecker insist upon. Just give gay couples their deserved, equal rights and move on already.
So, thank you Madame Gregoire. It's about time!