Housing Discrimination Courtesy of Rental Diva
August 6, 2012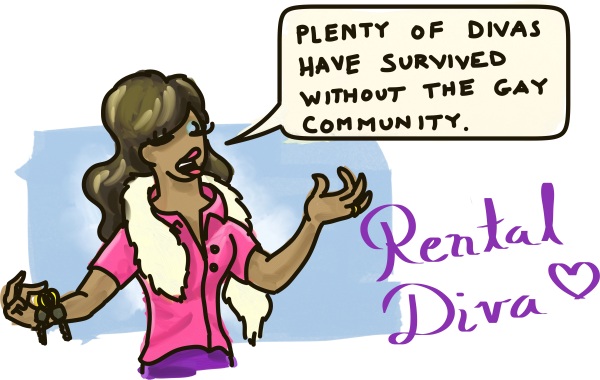 Rental Diva, an unlicensed rental agency in Brampton Ontario, is likely to face a human rights tribunal after turning away clients because they're gay.
Thiago Derucio and Christ Prentice called Juliet Stewart—operator of Rental Diva—about a basement suite, but were promptly told they could not rent the property because the landlord had indicated that they did not wish to accommodate gays. (What, she has a database field for that sort of thing?)
This seems pretty open-and-shut to me. Not only is Rental Diva violating Ontario's human rights code (with a rather lengthy chain of precedent against her favour), but she's operating without a license. That's pretty serious, and I can't imagine this business will be around much longer.
Still, there are unanswered questions. For example, how is it possible that an agency called "Rental Diva" isn't set up specifically to cater to gay apartment hunters? That would be like me setting up a business called "Christian Biblical Lodgings for Jesus" and then refusing to accommodate anyone wearing a crucifix.
I swear, these cases are getting weirder and weirder by the day.