Victoria Day Update
May 22, 2006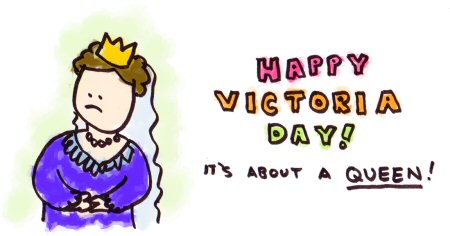 Well, I'm off enjoying Victoria Day today—the day where Canadians everywhere thank Queen Victoria for… whatever she did to give us a national holiday in her honour. In the meantime, though, I've prepared this special Victoria Day Update to let you, the astute reader, know what has been happening with some of those wacky stories I've been reporting on.

I assume it must be really hard to translate "gays deserve equal treatment" into legalese, because the Supreme Court's decision on whether or not to give retroactive survivor's benefits to same-sex couples has been delayed. I guess there's no pressure for them to hurry up, though; the main claimant died in October waiting for a ruling.
Poor King Ralph and Ted Morton! Their beloved Bill 208—which would have allowed Alberta teachers to not only refuse to acknowledge the existence of same-sex marriage in Canada, but also force them to send out parental warnings before speaking a word on the subject—was effectively killed in parliament through brilliant opposition delay tactics. Now, I wonder if they'll be able to effectively kill Ted and Ralphy's temper tantrum?