Church Suspends Gay-Friendly Archibishop
October 13, 2006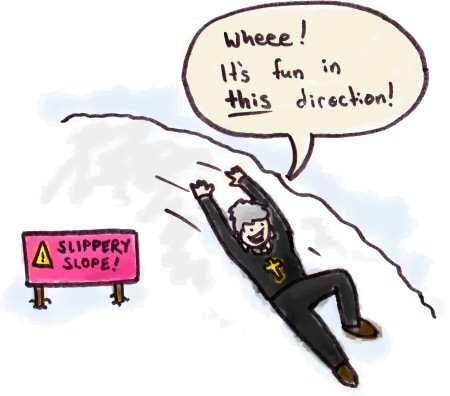 The Anglican Church has suspended a retired Archibishop for blessing a same-sex couple at their wedding. Although the wedding took place in a non-Anglican church and the marriage certificate was signed by a different, non-Anglican minister, Archibishop Terrence Finlay was suspended for officiating over Mary Rowe and Sandra Morris, his longtime friends.
Gee, from what all the anti-gay groups were saying earlier, I thought same-sex marriage was supposed to be a terrifying slippery slope—forcing priests to marry gay couples left-and-right. Who'd have thunk that it's the priests who'd be forced to refuse their blessings?
And just think! If we get that new Defence of Religions act that Justice Minister Vic Toews promised (because religions are having such a hard time), then a Justice of the Peace or civil marriage commissioner can refuse their officiation, too!
Whoops! Watch your step here, folks; it's icy!