Whaaa!? Vic Toews Supports Human Rights Museum
January 8, 2007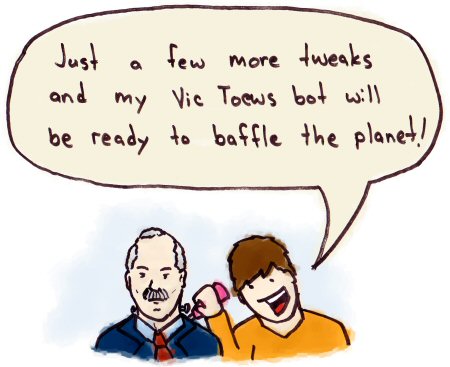 Well, I've got good news and I've got eerie news!
First, the good news: Vic Toews, Justice Minister Extraordinare, has been given the ol' steel-toewd boot from Harper's cabinet! Toews, who stated that the 9 consecutive court rulings guaranteeing equal marriage were all mistakes, and who pledged to introduce legislation legalizing discrimination against gays, had his own wacky vision of Justice, and shall be dearly missed on this site. (Sigh. Now, unless Jack Layton suddenly turns homophobic, the only moustache I have left to draw is Bishop Fred Henry's.)
Now, the eerie news: Some of you may have heard of the multi-million dollar Canadian Museum of Human Rights to be built in Winnipeg. The museum is supposed to feature an exhibit on gay rights, drawing the wrath of right-wing special interest groups. Lifesite, for example, called the museum a "powerful propaganda institute," adding that its supporters have "made a monster of the word tolerance, [have] raped the word gay, and [have] beheaded the term human rights." And the kicker: Vic Toews, as the new Treasury Board President, supports it!
Yep, you heard right. Toews will be meeting with the museum's planners to discuss a $100 million government commitment, saying "[the museum] certainly is a priority that Manitobans want resolved and I want to see how I can meet our commitments."
So, there you have it! Now, as long as the museum isn't renamed to the Vic Toews Museum of Human Rights, it looks like I may actually have a reason to visit Manitoba!