Priest Removed For Refusing To Fire Gay Employee
February 7, 2007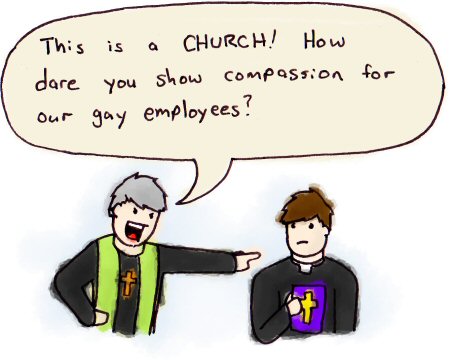 Ah, so that's what Jesus would do!
The congregation of the Holy Cross Church is reeling after Bishop Richard Gagnon fired their favorite priest, Father Michael Favero, for refusing to dismiss a gay employee.
Father Favero indicated that firing the gay office manager would have gone against his concience, and chose to be dismissed rather than compromise his integrity. Parishoner Monica Kowalewski said Favero was a "hero" for taking that stance, and that Bishop Gagnon needs to apologize for his un-Christian behaviour:
Not only has [Father Favero] been fired from our church, he's been barred from undertaking any priestly functions anywhere. He should be offered the opportunity to return to Holy Cross, and if he doesn't want to come back, at least he can work elsewhere.
So, there you have it: Since same-sex marriage has become reality, churches have fired priests for refusing to dismiss gay employees, refused communion to gay parishoners, and suspended the marriage licenses of archbishops who bless gay couples.
Guess that terrifying slippery slope was actually more like a rope-tow, huh?