Happy Birthday, Slap!
April 6, 2007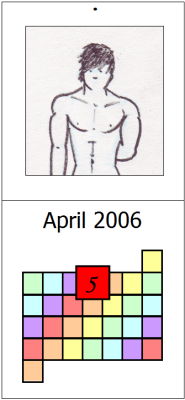 Can you believe it, kids? Yesterday marked Slap Upside The Head's first birthday!
Yes, it's been a full year since I dolled out my first virtual slap in a barely relevant story on Brigitte Bardot.
I almost missed the occasion, too. While I was occupied writing a conference paper that could render non-grad-students comatose, my boyfriend (who's also named Mark, much to the delight of everyone who thinks they're the first to call us "Marky Mark") generously assembled the above anniversary calendar. It's made from a card I drew for his birthday that he kept, scanned in, and decorated with a computer graphics program he's not terrifically comfortable with.
So thank-you, Mark, for not only going out of your way to ensure there was something to commemorate this site's birthday, but also for putting up with the countless times I've had to utter the phrase: "I have to work on tomorrow's Slap."
I love you!