Potentially Illegal Religious Bill Drafted By Tories
April 9, 2007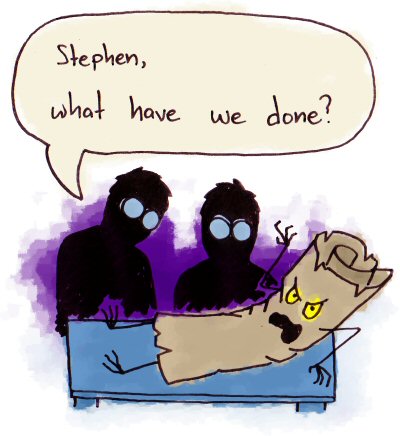 It's… It's aliiiiiiiive! Well, almost.
The federal Tories have drafted a "religious freedom" bill that would allow civil marriage commissioners or Justices Of The Peace to refuse their public services to gay and lesbian couples, but haven't introduced it in parliament yet.
While the government continues to deny they have plans to actually table legislation on the subject, The Globe and Mail was able to access over 1200 pages of information confirming that such a bill was researched and drafted as late as October. Oddly enough, the Globe also revealed that these records were almost entirely blacked out. (Though, since Mr. Harper has assured us a much more open government, I'll attribute the blacked out portions to unrelated poetic clutter.)
Now, as for why the Conservatives don't intend on introducing this bill after so much planning… Who can say? I mean, it's certainly not in their character to be sneaky with human rights issues, springing this bill upon an unsuspecting public only after they've been handed a majority, right?
Incidentally, other provinces have tried to introduce bills on the subject (I'm looking at you Alberta and New Brunswick!), but legal experts have panned them for being fundamentally illegal.