Church Bans Peace Activist Over Gay Marriage Stance
May 23, 2008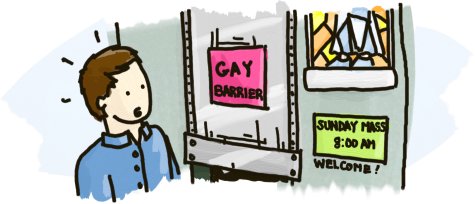 Poor James Loney. The Christian peace worker, made internationally famous after being held hostage in Iraq for several months, has been barred from speaking at another religious shindig simply because he's gay.
Loney was booked to speak at Sacred Heart Cathedral yesterday night by a Roman Catholic group, but cathedral staff forbade the event after discovering the speaker was gay. While officials indicated the ban was due to Loney's views on same-sex marriage, he was not scheduled to speak on the topic.
You've got to admire James' courage, though. Sticking to your faith in a church that actively denounces your existence can't be easy. After nearly giving up his life for his religion, Loney has now been barred from quite a few religious events because he's gay.
In October, The Campaign Life Coalition successfully lobbied to ban him from speaking on the subject of social justice at a church-sponsored peace conference, calling him an "unrepentant, active homosexual;" the year prior, the Roman Catholic Diocese of Hamilton rescinded their annual funding of a peace forum because Loney was the keynote speaker on the theme of "The Price of Peace." But the real kicker was two summers ago, when the Ontario Catholic Youth Leadership Camp shut down entirely because the Knights of Columbus, who financed the camp, said that having Loney working there signaled that the camp was "promoting the homosexual lifestyle."