Apple Pulls Exodus' iPhone App, But They're Still A Registered Charity in Canada
March 25, 2011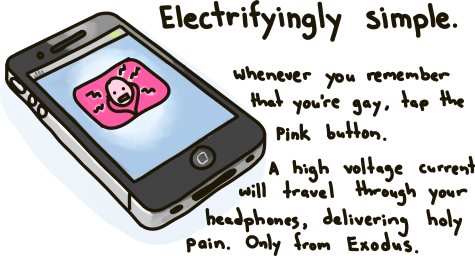 Exodus International, an "ex-gay" organisation that subscribes to the rejected notion that being gay is a disorder that can be cured through therapy, has released a "Gay Cure" iPhone app.
The application availability didn't last long, though, after an online petition gathered over 150,000 signatures and caught the attention of Apple, who decided the application did not follow their content guidelines.
Yep, there's no longer an app for that!
That's pretty nifty, but there's something about Exodus that I think needed even more attention than an iPhone application…
Exodus is a registered charity in Canada , enjoying numerous tax benefits for promoting their unscientific and dangerous therapies for "curing" gay people. I started a letter writing campaign back in September to help bring this to the attention of the Canada Revenue Agency, but they've stayed silent on the matter for months. That's no good.
To get the CRA's attention, there's a brand new petition on the Slap Into Action Page with—as of right now—zero signatures. Let's bring that number up!
If 150,000 people were outraged about the Exodus iPhone app, how many do you think will be upset that Exodus is posing as a charity, reaping tax benefits, and accepting tax-deductable donations from the public? The answer to that question is up to you! Tell your friends to sign the petition, and then get them to to tell their friends. Let's demand more than silence from the Canada Revenue Agency!