The Rapture's This Saturday; Gays Partly Responsible
May 18, 2011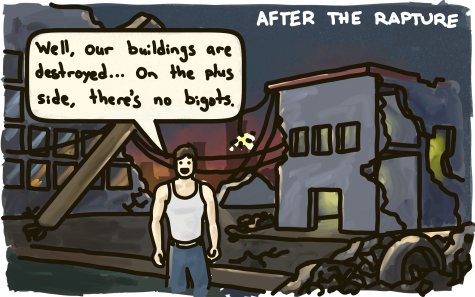 Sad news, everyone. Harold Camping, an 89 year old pastor and expert on the Christian bible, has discovered the date of the rapture. And it's this Saturday, May 21st.
Well, bummer.
Unfortunately it looks inevitable, too. Camping, who previously said the end of the world would occur on September 6th, 1994, has since spent many years studying the bible and has stated without any uncertainty that the bible "guarantees" this Saturday as the rapture—for real.
Sadder still, it looks like we gays are at least partly responsible for earth's destruction. "The emergence of the 'Gay Pride Movement' and the complete disregard of the Bible in all of society today" are some of the very few primary factors that Harold included in his calculation of the date.
So, unfortunately for a lot of us, at around 6:00 pm California time, a massive earthquake (a phenomenon which, as you already know, is caused by homosexuality) will destroy everything on Earth, opening graves and calling all Christian believers—both deceased and living—into the sky toward heaven, somewhere in outer space. The rest of us will be left behind on a ruined planet until October 21st when God will apparently destroy the place entirely.
While a few months without any bigots actually sounds quite nice, the inconvenient timeframe means I'll have to schedule my annual Halloween party a little earlier in the month before Earth is finally destroyed. Also, the earthquakes don't sound very pleasant. Luckily I think I'm insured for that.
Anyway, I'm not yet sure if I'll continue updating this site after the rapture, but stay tuned just in case.