Anti-Gay Marriage Vote Soon
September 20, 2006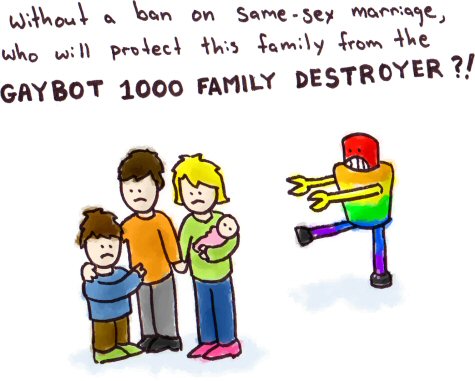 Ah, mid-September. That time of year when all of our gleeful politicians return to that magical parliament building in Ottawa and discuss matters at the forefront of the Canadian consciousness. Now, what issue do you suppose will be one of the earliest priorities this autumn?
(OK, I'll admit it; that's totally a rhetorical lead-in.)
That's right kids, our brand new prime minister, Stephen Bus—err, Stephen Harper, resumed work this week and promised to act swiftly on his campaign promise to revoke same-sex marriage!
Now, naturally, the vote to re-open the "big debate" is expected to fail spectacularly, but don't let that thought make you too comfortable with your full equality! Justice Minister Vic Toews has announced that, failing a ban on gay nuptials, the government will also introduce some shiny new legislation to "enhance protections for those who oppose same-sex marriage on religious or moral grounds!"
Hmm… You know, that sounds a little familiar… Almost like a defeated Alberta bill that would have removed all punishment for those who wished to refuse public services to gays on grounds of "moral objections." You know, the one that also almost forced teachers to send out parental warnings before even acknowledge the existence of same-sex marriage in Canada. Yes, yes, I'm quite certain that was the same language used to describe it.
Anyway, whatever becomes of this idea, it looks like it's going to be a fun-filled autumn of family-protecting (i.e. alarmingly hateful) goodness ahead!
Well, back to work! I haven't quite yet filled my quota of destroyed families today. The gay agenda requires at least 15.