Premier Hopefuls Flex Their Complaining Skills
November 3, 2006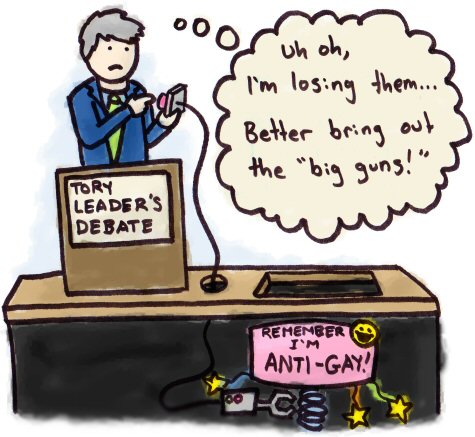 Now that Alberta premier King Ralph has abdicated his throne, replacement hopefuls met in Red Deer this week to discuss serious issues affecting the lives of every Albertan…
Nah, I'm totally kidding—this is Alberta we're talking about! Instead, they just threw a collective temper-tantrum over same-sex marriage.
"This is an issue that we do have to take a stand on," bloviated ejected cabinet minister Lyle Olberg, "I don't believe the battle is over." Ted Morton went as far as to state that his focus as a provincial politician is "to protect the rights of people who want to speak out against gay marriage." In fact, Gary McPherson, a relative unknown, was the only of the 8 candidates to support Canada's federal law, saying that the Supreme Court has made its ruling and The Province of Alberta should respect it.
As for the rest of the debates… "I felt they were very, very vague tonight," said one attendee. Another added: "I'd say [previous leadership debates] were a little livelier than this one. We're not getting the totally different stands this time around."
So there you go: An entire debate session whereupon the only thing the candidates could accomplish is emphasize that they're just not very fond of the gays.
Sounds like Alberta Premier material to me!