Alberta Race More Pivotal Than A Pivoting Pivot
November 27, 2006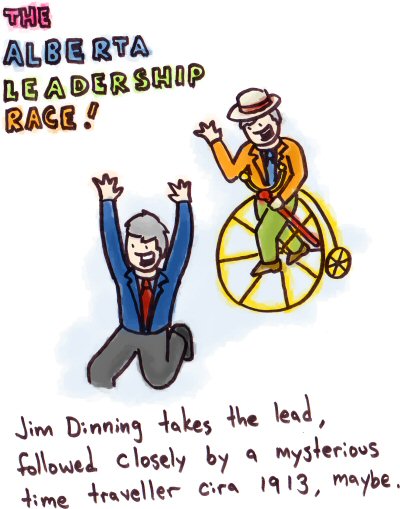 So how far can hysterical anti-gayness get you in a race for Alberta's premier? Well, pretty far, actually!
Ted Morton came in a close second in the latest vote, confirming my suspicions that Mountain Standard Time is actually several decades in the past.
Frontrunner Jim Dinning, while still pretty darn anti-gay, resembles a mixture of Snagglepuss and Charles Nelson Reilly in comparison to Morton, whose unnatural affinity for anti-gay laws has earned him the title of "Da Man," put to the tune of a SUV-dealership jingle. I'm not kidding.
The next (and hopefully final) vote is on December 2.
So, could there be an upside to a Morton-led province? Well, like I've always said—if you can't be a shining inspiration, a horrible warning is just as effective.