Another Priest Fired For Supporting Gays
March 12, 2007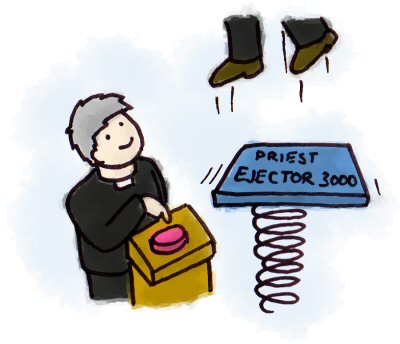 Anyone got a golf score clicker I can use?
An Anglican priest in Saskatoon will have his minister's license stripped for not refusing to perform same-sex marriages. Reverend Shawn Sanford Beck said he'd rather be dismissed than go against his conscience:
[Denying same-sex marriages] goes against everything else I'm about in my ministry and everything else that the church stands for. I'm trying to send a very strong message to the gay and lesbian community, and to other communities that have been alienated from the church, that we don't all think the same and there are people willing to go to the wall.
While I commend Reverend Beck for his stand, his ejection doesn't surprise me considering the Anglican Church is willing to shut down entire congregations and punish retired Archbishops over their pro-gay stance. Of course, the Catholic church is also quite happy to fire priests, deny communion to elderly volunteers and rescind charity money over gay speakers.
This judgment is apparently called the "What Would Jesus Do?" approach.
Incidentally, in addition to losing his minister's license, Reverend Beck will no longer be able to continue working for a Lutheran inner-city project. Yep, that'll teach him to treat gay people as ordinary human beings!