Another Priest Suspended For Same-Sex Wedding
October 31, 2007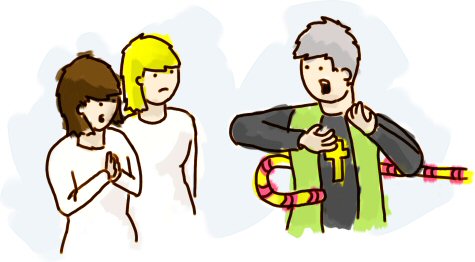 OK, I've lost count.
Reverend Michael Bury from St. John the Evangelist church in Stirling, Ontario has had his marriage license suspended after performing a same-sex marriage back in August. As an added measure, he has been ordered not to attend church until January.
The man is on medical leave.
Reverend Bury, of course, is definitely not the first priest to be disciplined for supporting his gay parishioners. And, as is the case here, most of the disciplinary actions have come from the Anglican church, which has been oddly contradictory about gay blessings recently.
In June, the General Synod decreed that blessing same-sex couples did not conflict with church doctrine, then promptly voted to ban the practice. This month, the Ontario and Montréal dioceses voted to allow same-sex blessings.
Hmm… Reverend Bury is from Ontario; I guess this makes their decision non-retroactive.
Well, until Friday, have a safe and happy Halloween! If you don't have a costume yet, here's an idea: Go as a wacky contradiction! Just fine some Anglican garb and…