Calgary Launches Gay Outgames
April 4, 2007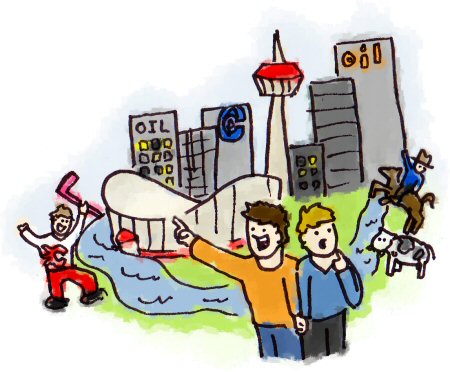 Well, they did it! The first-ever Continental Outgames was launched this week in Calgary, Alberta. The games are supposedly the largest gay-themed event ever held in the province of Alberta (the second-biggest being the time I accidentally bumped into another guy on the C-Train).
While I questioned the choice in venue before, it does go to show that Alberta isn't all Ted Mortons, Fred Henrys, Rob Anders…ses, and Ralph Kleins. Happily, the games have been met with enthusiasm, and the coinciding human rights conference has brought some extra perspective to Cowtown. The games have even drawn some influential speakers: Judy Shepard gave a passionate speech about gay awareness, and comedian Lily Tomlin is scheduled to close the games on Saturday.
So, overall, I guess there wasn't much to worry about! Or maybe those delightfully wacky, "non-hateful" protesters just haven't finished their Thursday night homophobic sign crafting class. Either way: So far, so good!
In semi-related news, the amazingly tasteful and universally adored editors at Calgary's Swerve Magazine have apparently commissioned some awesomely gay illustrations for their issue on the Outgames. I haven't seen it in person myself, but professional framers are predicting that the cover picture may become more popular than Whistler's Mother… Or, uh, so I've been told.
Well, have a great Wednesday, kids!